---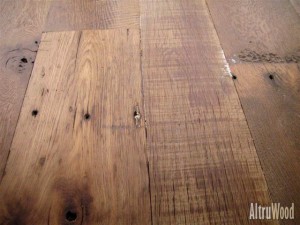 For nearly 10 years Altruwood has been providing recycled, reclaimed wood and lumber to customers throughout the country and abroad. Our reclaimed wood is of the highest quality recycled lumber salvaged from old commercial buildings, barns, factories, and warehouses throughout the US. We salvage and recycle beautiful hand hewn beams and mantles, Douglas fir beams and timbers and recycled wood flooring such as Douglas Fir, antique red and white oak, black walnut, antique chestnut, and American elm to name a few.
Why use reclaimed lumber? Well, the beauty of our reclaimed wood is that old structures become new again. Reclaimed lumber and recycled wood are valued for their superior characteristics and properties.  In most instances our reclaimed wood originally came from old-growth timber stands that are larger and older than anything being harvested today, making it stronger and more able to stand up to the tests of time. Reclaimed wood has the added benefit of being sustainable and environmentally sound because we are reusing material and not felling new trees.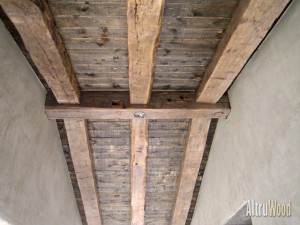 Reclaimed wood and salvaged lumber are often valued for their "imperfections" and patina which can range to varying degrees. Our hand hewn beams and Douglas fir timbers contain varying degrees of imperfections and character marks, which include mortises, tenons, bolt holes, seasoning checks, and color ranging from gray patina to original brown patina. Often times, by studying the craftsmanship — such as the way the mortises were formed or in markings on the wood — you can see the original work of the carpenter. Our beams and mantels are available in their original state or can be re-sawn and altered to your desired look.  Our reclaimed wood flooring comes available in a number of different species, options and appearances from a rustic original patina to a more surfaced clean look.
We also offer FSC® Certified reclaimed lumber to help you achieve LEED (Leadership in Energy and Environmental Design) credits.
Sometimes the possibilities seem endless when it comes to reclaimed wood, but we'll work closely with you to help achieve the finished product and look you desire.  If you don't see what you are looking for, or you are unsure what it is that you want please don't hesitate to call us at 877-372-9663. Chances are we can help you sort it all out.
Reclaimed Wood Flooring
Reclaimed Beams & Siding